Programming with Data Dependency Algebras (DDAs)
Data dependencies are inherent in the notion of an algorithm. Data dependency algebras (DDAs) [BH09] turn dependencies into explicit, programmable entities, that are more fundamental than general dependency analysis of, e.g., loops in an imperative program. DDAs abstract how parts of a computation depend on data supplied by other parts at a fine-grained level.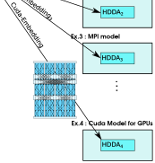 A hardware architecture's space-time communication layout can be defined as a special Hardware Space-Time DDA. It has projections into space and time, where space comprises the hardware's static spatial connectivity pattern. By embedding a computation's DDA into the Space-Time DDA of the hardware, we map the computation onto the communication layout of the hardware.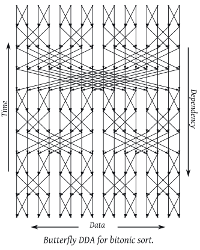 In a DDA-enabled compiler each hardware system is associated with a computational mechanism based on its Space-Time DDA. The generated code has precise placement of the computation steps as defined by the embedding. We are developing the Magnolia language to support DDA-based programming.
Portability: In the figure, DDA + Expression is hardware independent. Embeddings onto various hardware is defined from the DDA, and is thus reusable when the DDA is reused.
Reusability: The Butterfly pattern, used as an example here, appears in many divide & conquer algorithms, sorting networks and signal processing problems. The same DDA and embeddings can be reused for many computations, only the expressions differ.
Embeddings are high-level and controlled by DDA projections, usually short, reusable code snippets. The extra detail in the example shows the Bitonic Sort DDA embedding onto CUDA.
Our current DDA project is a continuation of a previous project, where the simple DDA-based language Sapphire was developed. Some more examples are available on the old project pages.
People and Partners
Staff
Related People
Steinar Søreide – worked on the DDA-based Sapphire language
References